Those with just a speck of interest in real estate often consider house flipping, but only a select few make the plunge. But while every investment comes with risks, the rewards of house flipping almost always outweigh them, especially when the flipper has an eye for potential and actually understands the market.
With the economy bouncing around all over the place, keen or wannabe house flippers should pay attention to all the benefits house flipping can bring. After all, Bradley Ransome says it isn't just about the money.
The Top 5 Rewards of House Flipping
1 Exceeds Full-Time Income
Both full- and part-time flippers can make as much (if not more) than working a nine to five every day. Even those who flip just two or three houses every year can generate enough to exceed their full-time income.
Flippers who scale to five or more houses per year generating at least $20,000 to $30,000 from profit each start making six figures in relatively no time according to Brad Ransome.
2 Improves Understanding of the Local Market
From the moment house flippers decide to live their dream, they start to learn about the local market. Browsing the "for sale" adverts and perusing the recently sold lists gives invaluable insight into what home styles people prefer in the area — modern or farmhouse?
Over time, this research and newfound understanding generate more profit as flippers become increasingly adept at picking out money-making potential.
3 Builds Networks
First flips are daunting, but even newbies start creating loads of new industry contacts right off the bat, including:
Contractors
Realtors
Building inspectors
Attorneys
Other investors
Insurance brokers
Everybody they meet and work with becomes an integral part of future real estate investments and even when working on their own home.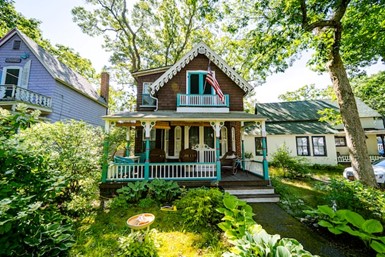 4 Develops Entrepreneurial and Personal Skills
Building a business is hard work, especially in the flipping industry. People fail constantly, but it gives new flippers a chance to develop their business acumen and personal ethics. They'll gain construction and real estate experience. Not to mention they'll learn the basics of setting up, owning, and running a business.
And after the first successful flip, they'll feel empowered, ultimately leading to increased confidence and courage. These invaluable skills aren't just crucial for profit gain; they'll shine through in other aspects of life for all-around personal development.
5 Enhances the Neighborhood Community
As mentioned, house flipping doesn't just turn a substantial profit. It offers exceptional opportunities for flippers to give back to their community. First, it transforms distressed, ugly houses into stunning homes for new families, positively impacting the neighborhood's quality of life.
Flipping also increases property values, heightening the wealth and property tax revenues for the community's police, education, and fire services. On top of that, it opens up a plethora of employment opportunities for real estate agents, lenders, attorneys, local contractors, tradespeople, suppliers, and title companies.
In a nutshell, house flipping helps put food on the table and can even rescue homeowners facing bankruptcy, financial hardship, and foreclosure.