The construction industry plays a vital role in our lives, creating the homes that we live in, the commercial properties we frequent, and more. Naturally, there are a lot of people who would like to learn more about the construction industry and its various processes, and seasoned veterans of the industry stand out as excellent resources for demystifying the space.

Bradly Ransome is a business development professional specializing in construction who has dedicated himself to contributing to key conversations within the realms of his areas of expertise. Through a collection of posts that address key topics such as construction, business development, and entrepreneurship, Bradley hopes to increase accessibility of resources that will help others grow their understanding of these spaces.

About Bradley Ransome

Bradley Ransome is a business development professional who specializes in construction and renovation. Currently, he is the CEO and co-owner of Hatteras Holdings, LLC a real estate investment company located in Raleigh, North Carolina that purchases land, real estate, houses, and multi-family units to renovate and later sell or rent. At Hatteras Holdings, LLC, Brad Ransome is responsible for upholding the strategic vision of the company, creating teams, and continuously streamlining processes to ensure that projects are successfully managed and completed.

Colleagues of Bradley Ransome consistently speak to his passion for construction and maintaining the family business. Brad has become well-known within his industry for his keen attention to detail and innovative approach to renovation and design. He notes that renovation and construction is not as easy as it looks on tv and, therefore, requires an incredible amount of dedication and a passion for learning. Clients who have purchased or rented properties from Bradley maintain that his work is thoughtfully constructed and designed, mentioning that the dedication Hatteras Holdings, LLC has to the process is evident within its work.
Brad Ransome on Renovation Mistakes to Avoid

As a construction and renovation expert, Bradley is commonly asked questions pertaining to what mistakes he commonly sees novices make while working on their properties. He mentions that renovation can be difficult business and there are hundreds of potential mistakes that an amateur could make if they do not follow expert advice, hire the right people, and have keen attention to detail throughout the renovation process.

Here, Brad Ransome explores a few common renovation mistakes and how individuals working on their homes can successfully avoid them.

Starting with an Unrealistic Budget

Brad Ransome notes that renovations can easily cost more than one would expect, and a common mistake he sees amateurs make is starting with a budget that is inherently unrealistic. This is especially the case with older buildings that may have not been updated in the decades since they were built. In a worst case scenario, an inspection before the start of renovation can reveal thousands of dollars' worth of damage, mistakes that were built on top of, or issues such as the building's electricity not being up to code. Brad mentions that the best way to avoid the budget pitfall is to try to set aside at least 20% more than you believe you will need. This will keep you prepared for at least a few challenges or obstacles that would otherwise threaten your budget.

Rushing the Process

The power of TV magic often makes individuals renovating their homes believe that they can quickly complete their project and move on. Experience will tell you, however, that rushing a job is the worst thing that you can do if your goal is to have a great looking, safe space. It is not uncommon for big projects to take between 3-6 months for everything to be completely where it needs to be. Bradley Ransome notes that it is also a good idea to pad this time with a few extra weeks that can help make the difference between "ok" and a job well done. You want to have the time to plan the project, get a team prepared, and work through any issues knowing that you have the time to properly finish.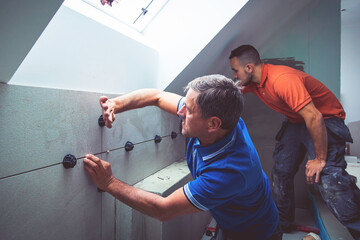 Not Consulting Professionals When Needed

Some renovators like to go the DIY route, which can be great for some of the simpler aspects of renovation such as moving and selecting furniture, painting, etc. When it comes down to it, however, there are some aspects of renovation that may require the consultation or assistance of a professional, especially if your project is large in scope. If your property needs renovations that include plumbing, electrical, roofing, or structural changes, a DIY approach can cause lasting damage that will later require a professional to fix. Avoid this altogether by consulting trusted professionals the first time and use DIY on the simpler aspects of the renovation.

Using the Least Expensive Options

Many times, with renovations you get what you pay for. While there are certainly some aspects of a reno that do not require the most expensive option, you may find that your changes do not last as long as they may if you put a bit more money it. Bradley Ransome speaks to how he cautions new renovators not to go cheap with everything, especially materials and professionals. The cheapest contractors available, for example, may cut corners in ways that impact the quality of work, and the cheapest materials around may be ultra-susceptible to damage and wear and tear. Brad notes that this is not to say that there are not processes where it is okay to save a few bucks, just that keeping that mentality through every aspect of the renovation may end up causing more trouble than its worth (literally) later down the line.

Not Preparing for Difficulties Along the Way

Brad mentions that one of the worst things someone renovating a space can do is believe that the process will be easy. Believing that a renovation will be a cakewalk may leave you unprepared physically, mentally, and financially for the rigors of the process. Expect that there will be a few obstacles such as unseen damage, aspects of design that do not go according to plan, and even small interpersonal issues as the job potentially continues through months. Preparing yourself properly for the process will take a lot of stress off of you and your collaborators, which will mean that when you run into issues you will have the space and time to address them and move on.

More from Bradley Ransome

Bradley Ransome acknowledges that there are many people who would like to learn more about the construction industry and will update this website with information such as recent developments and news, tips for construction administrators, information that may help individuals looking to break into the industry, as well as business development tips. Bradley also acknowledges that as a professional who specializes in construction and renovation, he is in the unique position to offer tips for those who are exploring the option of renovating their spaces. Future posts from Brad Ransome will address topics such as characteristics of a trusted contractor, the impact that supply chain issues have had on construction, and safety tips for site leaders.

If you are interested in learning more about construction, renovation, and business development from a seasoned veteran of the industry, check this website soon for more updates, insights, and information from Brad Ransome.